Connect. On a deeper level.
With just a tap, scan or send
share your contact info, social media, websites, files, payment apps, videos and more.
Tap
Just hold any Swopi device near someone's iPhone or Android and instantly share your info without them needing an app.
Scan Swopi QR
Use your free Swopi QR with advanced features, analytics and unlimited scans
Send
Send your digital business card as a link in e-mail, sms, via aidrop, and more.
Collect leads
Capture leads generated from your profile and then manage them all in Swopi. Sync with CRMs like Dynamics and Outlook.
Business card Scanner
Convert paper business cards into digital connections with our AI-powered scanner and save them as contacts in your phone
Lead capture form
Collect leads with a simple form as soon as you share your profile with others
Lead management
Manage, export, and see who and where your contacts were collected
Export to CRM
Get the most out of your sales team and your digital business cards. Manual data entry no more.
Automatic data entry
Convert in-person contacts to your CRM, without any manual data entry
For teams and businesses
Export all captured leads in the team, track the best-performing employees, lead locations, notes, and more
Integrate Swopi with other apps
Connect contacts from Swopi to your Outlook, Dynamics and other popular sales and marketing tools
In an easy and efficient way
Connect online at the moment of meeting and measure ROI of your team's performance
Business Intelligence
See analytics that will help you convert leads into customers
More engagement, more followers
Grow your followers faster and direct your fans anywhere you need them to
Customer support
Design your custom digital business cards and online profiles to perfection. The Swopi team will help you with the setup at any time.
Whether you're running a startup, or global enterprise
You can count on us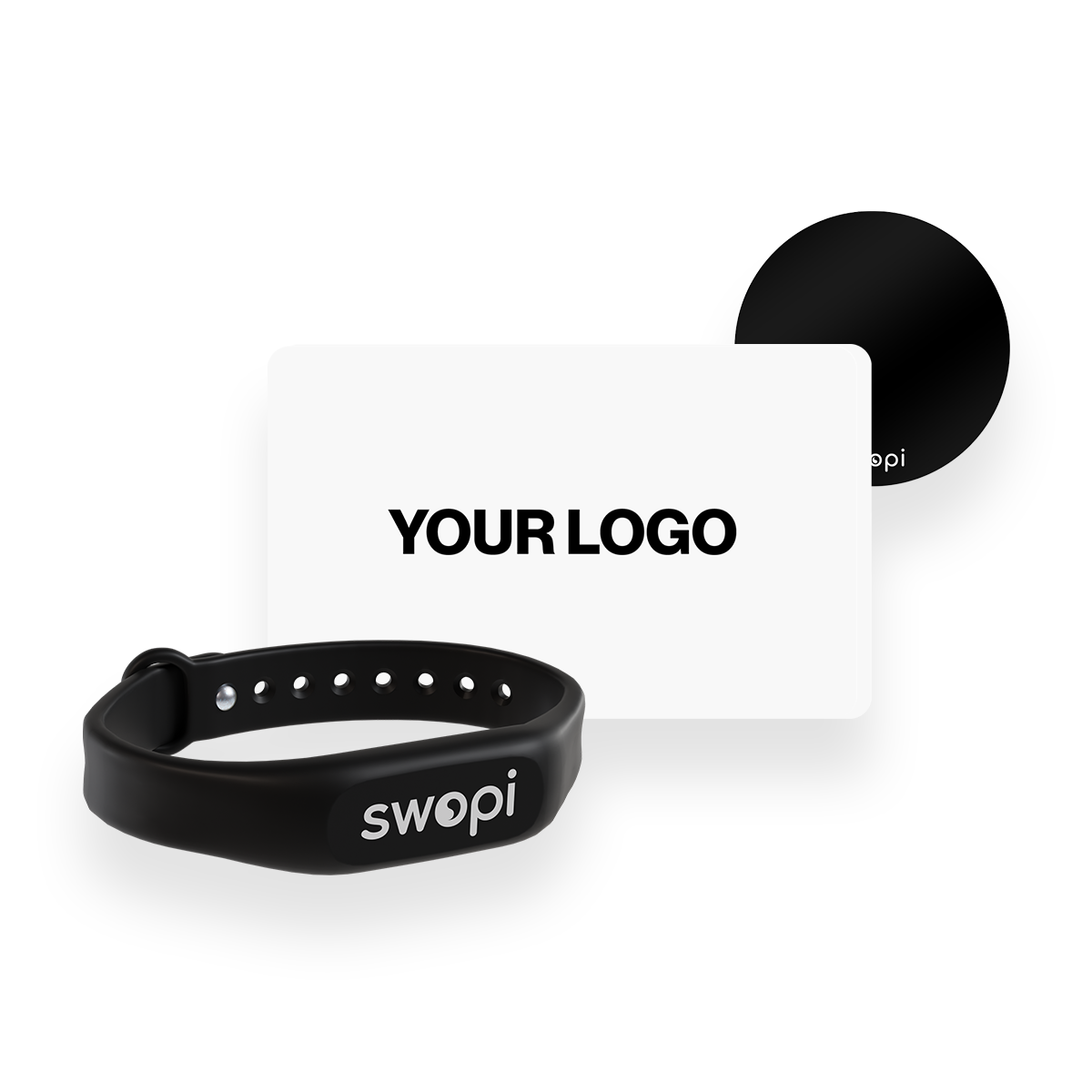 1.
Get a Swopi product that works best for you
Shop now
By far the most convenient way to share and save contacts
Take a look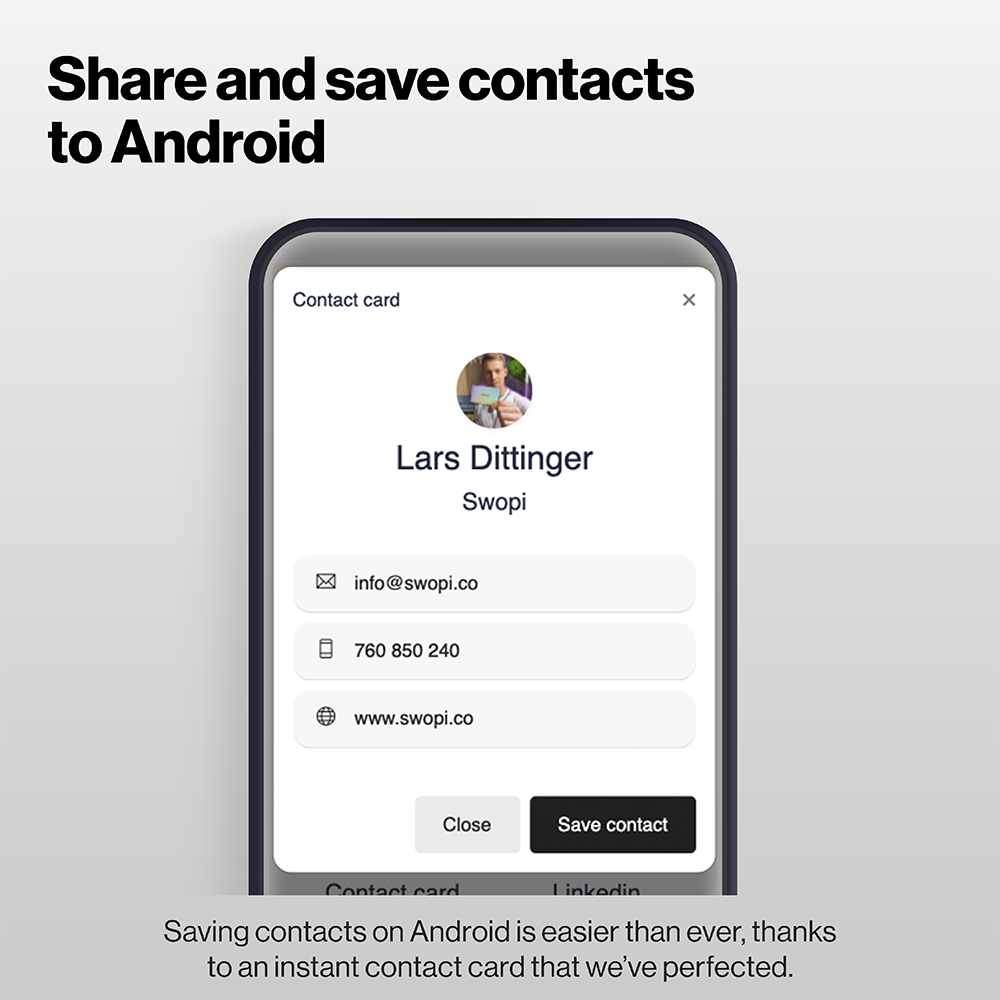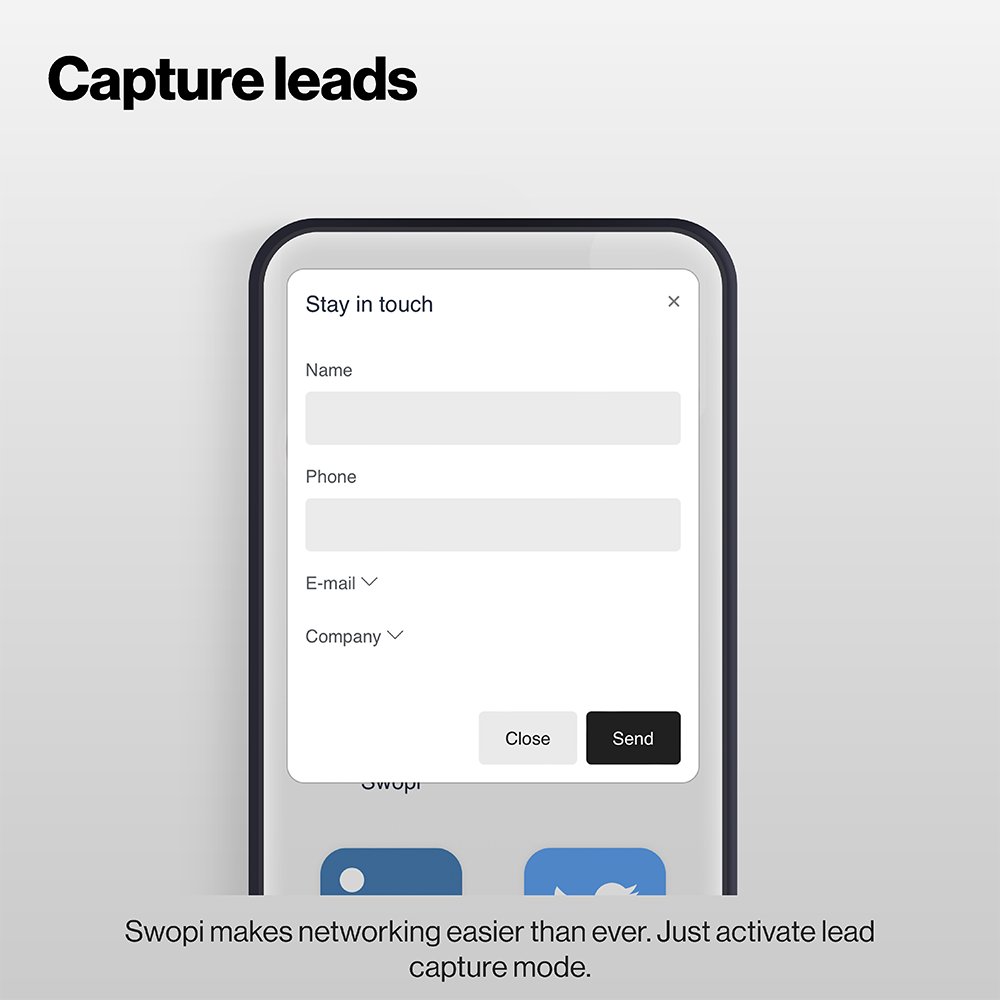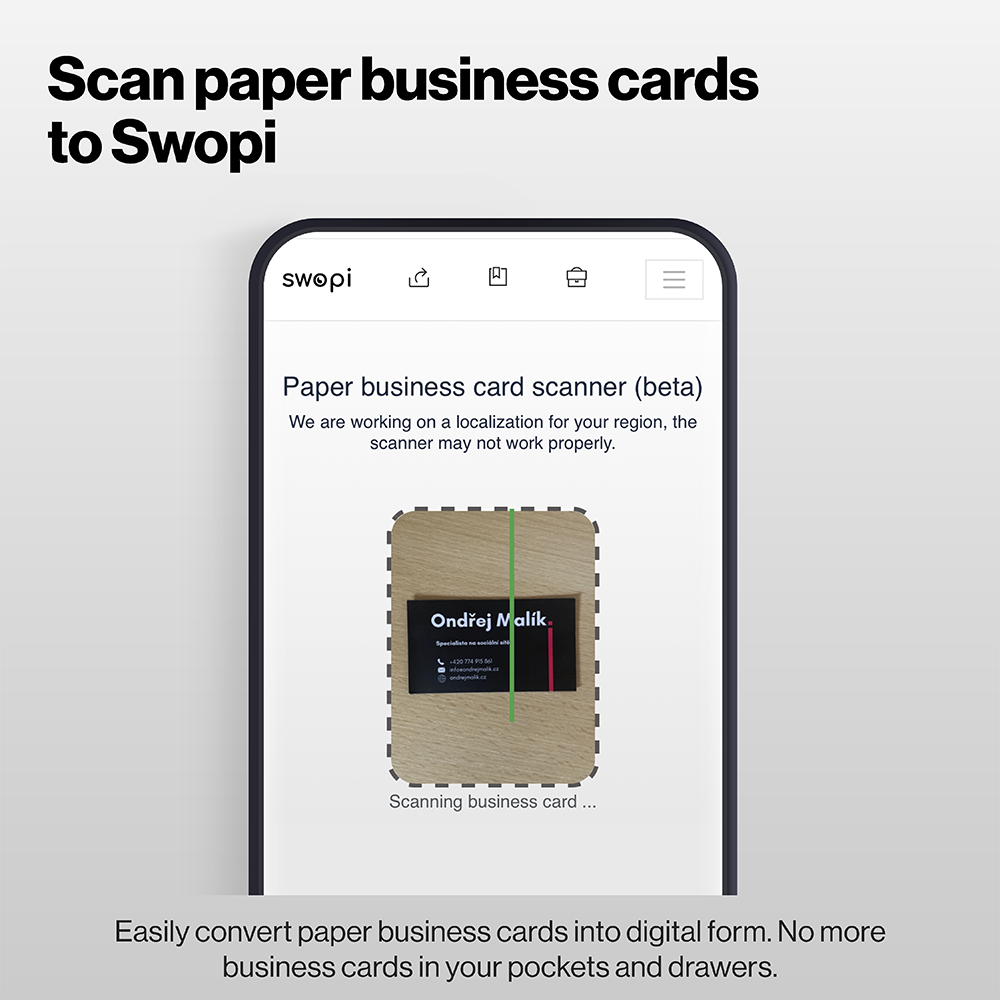 Organizations seeing success with Swopi
Lucie Kadlecova
Mancala Gaming

"WOW effect achieved with Swopi is incredible! No paper business card can do that."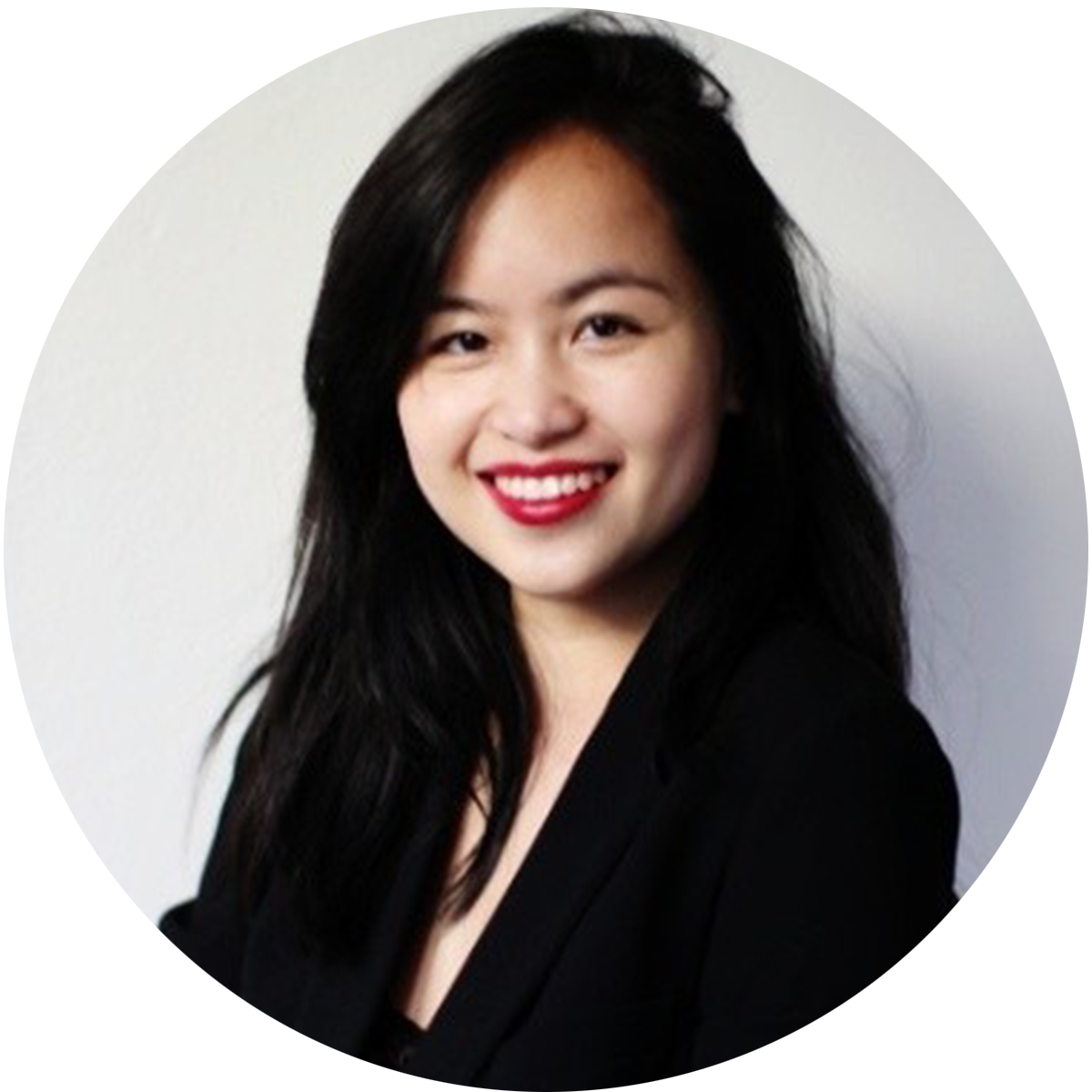 Anna Mai
Czechitas

"Finally business cards that make sense! Businesses can connect with us instantly thanks to Swopi."
Nina Tejkalova
Sapeli
"At SAPELI, we always strive for sustainability when considering new products. Swopi checks every box for us and we save lots of paper and trees"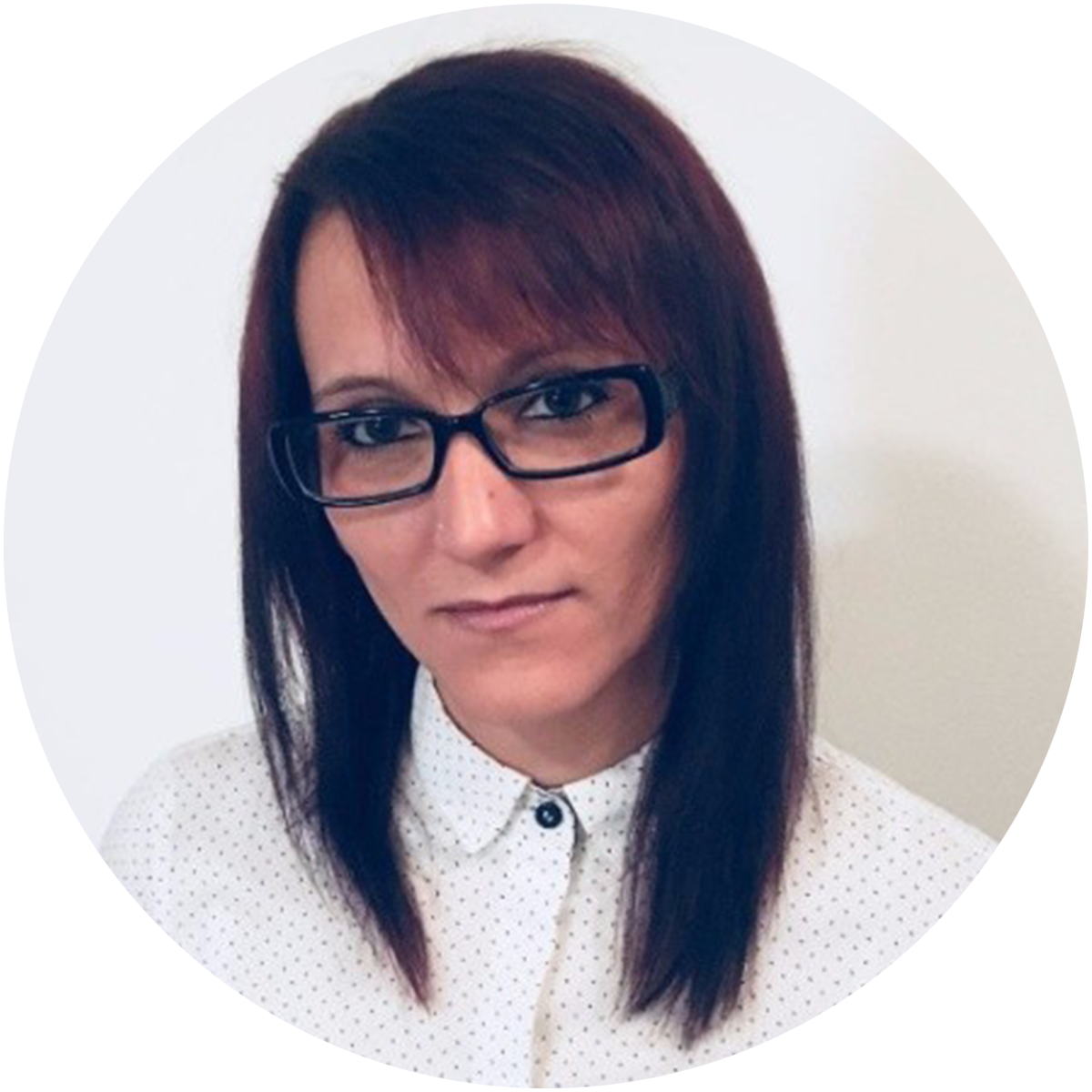 Lucie Pandiova
Beko

"Swopi saves us lots of costs as there is no need to throw away the old business cards. It allows us to change any info and the change is immediately visible!"
Get to know us
Ondra and Lars
Best friends since high school, living in Czechia. We share a love for cutting-edge technologies. We bring solutions for a sustainable future that we want to extend to businesses around the world through our products and platform.
Get in touch with us
We'd love to hear from you!